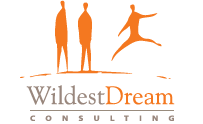 Founded in Melbourne, Australia in 2001, Wildest Dream Consulting provides coaching in the areas of executive and leadership development, career change and personal change.

Area of Specialisation and Focus

Executive Coaching, Leadership Coaching, Career Coaching and Personal Coaching.

Our approach uses a combination of consulting, skills development and coaching that is underpinned by cutting edge coaching methodologies grounded in the cognitive behavioural sciences of NLP and Neuro Semantics. We facilitate learning and development with a focus on how to think better and how to create new levels of competence, success and wellbeing.

Our Founder

Profile - Kathy Rodwell ACMC
Kathy is highly experienced in the areas of leadership coaching, executive coaching, career transition, career resilience and personal transformation. Her core specialty is developmental and behavioural change as the vehicles for achieving solutions for the individual and the business.

Kathy typically works within the contexts of authentic leadership, talent retention and engagement, career enrichment and self-actualisation. She believes that only through creating the right leadership environment and empowering people to take charge of their professional and personal progression through life can the organisation be truly effective and reach its desired outcomes.

People enjoy working with Kathy for her use of straightforward language, cutting edge methodologies that work, and the measurable results they get. She approaches her coaching partnerships with respectful curiosity and has a way of getting to the heart of things quickly. This translates into people being challenged and supported to the appropriate level so they achieve more, in less time, and with more sustainable results than going it alone.

"When we tick off someone's coaching outcomes at the end of a coaching program, the person is nearly always curious about why their outcomes seemed such a big deal to them when they started. I hear remarks like "effortless" and "easy" to describe achievement of what they thought were major changes at the start. This doesn't diminish the effort we've put in, it's just that the distance between the starting point and the end game is so great that they've forgotten what it was like to not have their outcomes."

Before deciding to follow her heart into a full time coaching career in 2001, Kathy enjoyed an extensive corporate career with roles including organisational learning and development, marketing and sales management. She works with clients from some of Australia's leading organisations, government, small to medium enterprises, Not For Profits, CEO's, politicians and a wide range of individuals who invest in their personal and professional development.